Car Spray Paint | Dartford Kent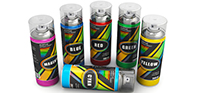 East Hill Autos stock car paint and spray paint either in off the shelf aerosols or mixed to order in either liquid or aerosol form.

We stock HyCote aerosols in a broad range of colours off the rack and always have plentiful stock of solvents, masking and filler products.

Our paints and primers will ensure a high quality, durable paint finish.

Features of HyCote Paint.

• Provide a tough durable protective coating
• Advanced formulation
• Apply to existing (prepared) paintwork or bare metal
• Compatible with most types of automotive paint
• Can be used on cellulose finishes

Can't find your paint colour? We mix over 50,000 colours in store while you wait. As brush, aerosol or in a tin.