Lubricants, Brake Fluid | Dartford | Kent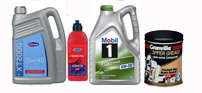 We keep most types of Oils and lubricants in stock in our store.

Think of motor oil as the life's blood of your vehicle engine. Checking it regularly is a key part of keeping your engine running well and getting the most out of it.

Oil lubricates the engine's internal moving parts, which keeps them from wearing out too quickly. It also helps keep your engine clean, prevents dirt buildup, and helps keep your engine from overheating.
Checking the oil level is a quick, easy task that we recommend you do at every other fuel top-up. All you will need is a rag or paper towel. Consult your car's owner's manual for the location of your oil dip stick.